"I love Skiathos" offers its users the ability to get the Exclusive Card, through which they can take advantage of numerous deals and last-minute offers, to more than 100 local businesses: cafeterias, restaurants, supermarkets, car rentals and more. You can acquire the exclusive card very quickly and easily by purchasing it online, through Paypal, or from our office, located at Skiathos' port "I love Skiathos" Exclusive Card comprises of two different package deals: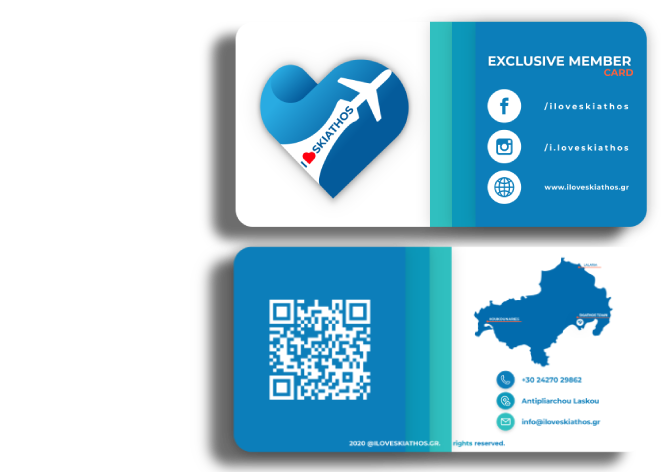 Click on each category to learn more
Super excited, many secret places and the highlight of all is the benefits to be a exclusive member with little cost so you can get loads of discounts!! I totally recommend it!
Excellent work guys!! I found very useful tips !! I used the app during my whole stay on the Island and it also gave me suggestions on how to spend my days and what places i must see !!! Well done !!!! Finally a travel guide in the form of an app!!!
Very helpful app!! We found so many places that helped us to enjoy our trip even more. We also registered on the app so as to get the bar's and restaurant's discounts !!! I totally recommend it for everyone!!